Touring Holidays
In Lake Como
Discover the breathtaking views and beautiful villas of Lake Como with us on one of our guided holidays. Our Lake Como holidays include return flights, accommodation, transfers and excursions with expert, local guides.

Expertly created guided group holidays

It's all included, flights, excursions & much more

Travel with Like Minded People

It's Easy - We Plan Everything For you
Top Tourist Attractions & Places to Visit From Lake Como
Bellagio
Villa Balbianello
The Alps
Milan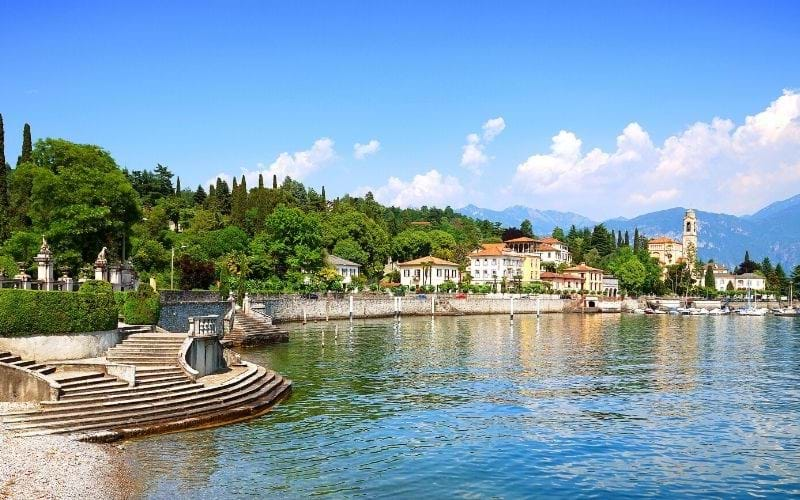 Lidos
Known as the 'pearl of the lake', Bellagio is home to incredibly well-preserved historic buildings, narrow cobbled lanes and chic shops selling beautiful Italian handmade items including scarves, jewellery and handbags. The town is small enough to walk around and an ideal spot for taking views of the lake. On our trips to Lake Como, we'll take a boat ride around the lake to visit the gorgeous town of Bellagio and have plenty of free time to explore the beautiful gardens, serene views and authentic shops at a leisurely pace.
Villa Balbianello is a spectacular 18th-century villa set on the shores of Lake Como. The villa contains an impressive Italianate garden that was completely renovated in the early 20th century and is built on terraces of majestic plane trees overlooking the sparkling lake. The villa is also famous for its appearance in films like Casino Royale and Star Wars II: Attack of the Clones. Travellers on our Lake Como holidays will enjoy plenty of free time to visit this must-see attraction.
One of the most stunning things about Lake Como is the dramatic Alpine scenery that surrounds it. On our trips to the lake, we'll have the opportunity to explore the Alps on a full day excursion on the Bernina Express, a UNESCO World Heritage Railway. During this panoramic journey, we'll see views of White Lake, Black Lake and breathtaking glaciers. We'll also visit the Swiss mountain town of St. Moritz, where we'll have time to take in the beautiful scenery, wander the town's charming streets and shop for Swiss chocolates.
Just a short drive away from Lake Como is Italy's northern capital and fashion hub, Milan. On our Lake Como holidays, we'll visit this incredible city with an expert guide by our side to give us an overview of its fascinating history. We'll stroll past the Piazza del Duomo and Cathedral, along with the world's oldest shopping mall, Galleria Vittorio Emanuele II. Plus, we'll enjoy some free time to go shopping or view some of the Milan's famous art galleries.
On our summer holidays to Lake Como, enjoy plenty of free time to soak up the sun at some of the lake's fabulous 'lidos' or beaches. Almost every town on the lake includes a lido, and there are plenty of public and beach club options to choose from. Some of these lidos, likes the ones in Riva Bianca and Onno, are traditional public beaches. While others, like those in the towns of Cadenabbia and Bellagio, are more exclusive, boasting pools, bars and sun loungers for a fee.
A Guided Holiday Experience In Lake Como
With beautiful mountain scenery, tranquil blue waters, rich history and delicious Italian food, it's no wonder that Lake Como has become one of our most popular destinations and we even see many travellers returning, year after year. Our Lake Como, Milan & St Moritz including the Bernina Express holiday offers the perfect blend of free time to explore, a day-long boat trip around the lake, along with excursions to the cosmopolitan city of Milan and the picturesque alpine town of St Moritz. Our Lake Como holidays also include Solo Traveller options for those travelling on their own. Each of our holidays offers plenty of dates so you're sure to find one that fits into your schedule. With over 20 years' experience travelling to Lake Como, we know a thing or two about the area, so you'll be sure to get the most out of your trip with us!
Lake Como Holiday FAQs
Do Lake Como hotels provide entertainment and is free WiFi available?
Can hotels in Lake Como provide meals to suit my dietary requirements?
Is there a dress code at my hotel or going out in Lake Como?
I have walking difficulties, is a holiday in Lake Como suitable?
What are the most popular food and drinks to try in Lake Como?
When is the best time to visit Lake Como?
Is Lake Como a good holiday destination?
Lake Como Holiday - Reviews, Travel Tips & Advice
TD Team
21 September 2020
The stunning turquoise waters of Lake Como are as dazzling as the stars who flock there to escape the limelight. What better way t...
If you're looking for a holiday full of relaxation, beauty and culture, amid a stunning natural backdrop, then the Italian Lake Di...