Sorrento Holidays
Discover Italy's Sorrento coast with us on one of our guided holidays to this spectacular region. All of our Sorrento holidays include return flights, half-board accommodation, transfers and our specially selected excursions with expert, local guides – so you can spend your time relaxing instead of planning.

Expertly created guided group holidays

It's all included, flights, excursions & much more

Travel with Like Minded People

It's Easy - We Plan Everything For you
Rated Excellent
4.5 out of 5. Based on over 2,800 reviews on
---
Your Guided Holiday To Sorrento
Sorrento Coast, Pompeii & Capri
Url
Top Things To Do & Places To Visit From Sorrento
Sorrento Town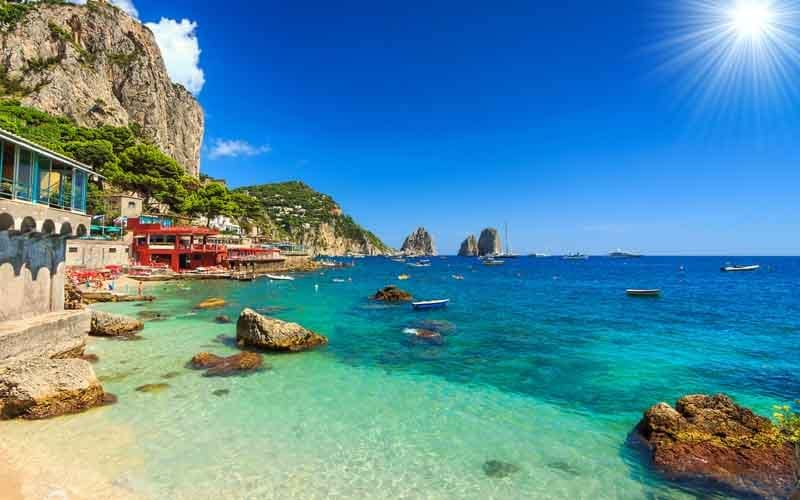 Capri
Amalfi Coast
Mount Vesuvius
Pompeii
Set on a spectacular headland, Sorrento boasts wonderful views across the Bay of Naples to Capri and Ischia. The town's historic quarter radiates from Via San Cesareo, where we'll find excellent shopping and a host of restaurants and pavement cafés. One of the most iconic images of Sorrento is of its atmospheric Marina Grande, the original fishing village with bright coloured houses built directly into the side of a cliff. On our holidays to Sorrento, we'll visit all of the town's highlights including the peaceful cloisters of San Francesco, the town's Duomo (cathedral), and the Correale Museum.
This idyllic island is home to rare birds, historic churches, magnificent villas, fashionable hotels and breathtaking cliffside views of the sparkling Mediterranean. It's no wonder Capri has been a playground for film stars and holiday makers for centuries. Capri town is located on a plateau, high over the sea and the town's pedestrianized maze of small lanes is lined with designer shops and stylish restaurants. On our trips to Capri, we'll have free time to enjoy a leisurely lunch, a swim in the sea or a visit to the famous Blue Grotto, before returning to our hotel.
The winding road from the Sorrento Peninsula to Amalfi is one of Europe's most scenic routes, with views over the pretty village of Positano, Capri and the Galli Islands. The former maritime superpower of Amalfi is today a welcoming resort town, with a beautiful cathedral dedicated to Sant'Andrea. On our trips to Sorrento, we'll take this scenic drive to visit the picture-perfect towns of Positano, Amalfi and Ravello. At each location, we'll have plenty of time to explore the pastel coloured houses and history sites of this beautiful coastal region.
One of the few active volcanoes left in Europe, Mount Vesuvius offers great hiking trails and spectacular views overlooking the Bay of Naples. Infamous for destroying the towns of Pompeii and Herculaneum in 79AD, it is now a national park and a walker's paradise. When travelling with us to Sorrento, you'll have plenty of free time to visit the national park and explore this famous volcano and its still-steaming crater. Just let us know and we can help arrange day trips or transportation.
Not far from Sorrento is one of the most famous excavation sites in all of Italy, the ancient ruins of Pompeii. Simultaneously destroyed and preserved by Mount Vesuvius' volcanic eruption 2,000 years ago, Pompeii is an incredible window into ancient Roman life. On our trips to Sorrento, we'll visit the archaeological site of Pompeii with an expert guide to give us the history of the city and its residents. We'll see homes, fast food restaurants and even people and animals, frozen in time from the volcanic blast that occurred in 79AD.
Holidays & Tours In Sorrento
With its convenient location off the bay of Naples and within driving distance to attractions like Amalfi, Pompeii and Mount Vesuvius, Sorrento is a fantastic destination for those looking to explore the culture and landscape of Southern Italy. When travelling with us to Sorrento, we'll stay in perfectly located accommodation on the Sorrento Peninsula, which extends into the Tyrrhenian Sea and provides easy access to stunning coastal towns and beautiful islands. On our Sorrento holidays, we'll explore the area in detail with day trips to the pastel coloured houses of Amalfi, the charming fishing village of Positano and the chic island of Capri. We'll also have the opportunity to try some of the area's spectacular food and produce, including locally-made Limoncello, olive oil, buffalo mozzarella and wine.
Sorrento Holiday FAQs
Do Sorrento hotels provide entertainment and is free WiFi available?
Can hotels in Sorrento provide meals to suit my dietary requirements?
Is there a dress code at my hotel or going out in Sorrento?
I have walking difficulties, is a holiday in Sorrento suitable?
What are the most popular food and drinks to try in Sorrento?
When is the best time to visit Sorrento?
Is Sorrento a good holiday destination?
Sorrento Holiday - Reviews, Travel Tips & Advice
If you're planning a holiday to Italy, then check out our suggestion of some of the top sights you should see in this stunning cou...
One of the best things about Italy is that you're guaranteed to eat well! Discover our top 5 favourite dishes that can be found in...