Vienna Holidays
Travel with us to discover beautiful Baroque architecture and fascinating history on our guided holidays to Vienna. All of our holidays to Vienna include return flights, accommodation, all transfers and excursions with an expert, local guide, so the only thing to worry about is which of the city's incredible attractions to see first!

Expertly created guided group holidays

It's all included, flights, excursions & much more

Travel with Like Minded People

It's Easy - We Plan Everything For you
Select A Holiday To Vienna
Url
Url
Czech Republic, Austria, Hungary
Prague, Vienna & Budapest
Url
Top Places To Visit & Tourist Attractions In Vienna
Schönbrunn Palace
Hofburg
Ringstrasse
Kunsthistorisches Museum
Belvedere Palace
A must-see attraction for all holidays to Vienna is Schönbrunn Palace, the summer residence of the Habsburg family. The Habsburg monarchy ruled Austria, Hungary and parts of the surrounding countries for over 600 years and Schönbrunn serves as a window into their lavish lifestyles. The grounds are home to lush gardens, impressive sculptures and even some fake Roman Ruins, built by Ferdinand Hetzendorf von Hohenberg in 1778. On our holidays to Vienna, we'll get to explore this beautifully ornate palace as part of a guided, full day city tour.
Another former royal residence to visit is the Hofburg, which was originally the official seat of the Habsburg Empire. Once an impressive fortress with a moat and drawbridge, today the palace is home to a mix of museums and ministries. Though many additions and modifications have been made to the building over time, it still stays true to its historic origins and serves as a breathtaking reminder of this once powerful monarchy. Our trips to Vienna include a visit to the Hofburg with an expert guide who will explain all about this landmark's rich history.
The Ringstrasse boulevard is home to a number of famous Viennese sights, including the Vienna State Opera House and the Votive Church. This area of the city takes visitors back in time, providing an insight into the period when Vienna was one of the most important capitals of the world. On our holidays to Vienna, we'll tour this impressive boulevard and take in the architectural highlights of the area with an expert guide to point out the imperial style for which the city is known.
Originally built to display the expansive collections of fine art obtained by past royalty of the Habsburg dynasty, the Kunsthistorisches Museum is home to works by world-renowned artists such as Raphael, Bosch, Caravaggio and Brueghel. Though this stunning palace was built to house works of art, the building itself could be considered one, boasting lavish gold-leafed and marble interiors. On our trips to Vienna, we'll visit this gem from the outside as we stroll down the Ringstrasse, and have plenty of free time to explore the inside at a leisurely pace.
Vienna has no shortage of magnificent palaces, but Belvedere might be the finest example of Baroque architecture that the city has to offer. Built during at time of extensive construction in Vienna, it was originally used as a residence for the Habsburgs. Today, Belvedere is a fantastic art gallery housing famous paintings like The Kiss by Gustav Klimt. While in Vienna, we'll enjoy plenty of free time to visit this must-see attraction, with tips on what to see inside from our expert guide.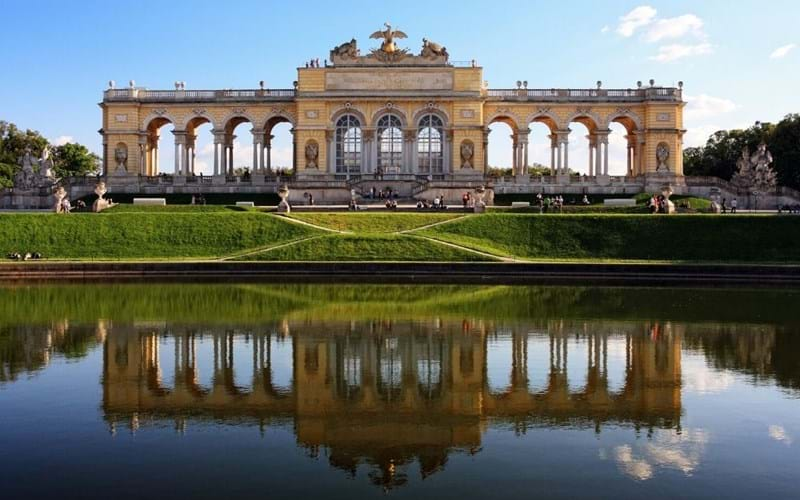 A Guided Holiday Experience In Vienna
Located in the heart of Europe and known as one of the most artistically rich cities in the world, Vienna is the perfect destination to enjoy a truly cultural experience. A remarkable number of world-renowned composers throughout history have lived and worked in Vienna, including Mozart and Beethoven, and their influence is still treasured. The city stays true to its artistic and musical roots, and holidays to Vienna cannot be without a visit to any one of the arrays of opera houses, theatres, museums and galleries the city houses. We offer a variety of Vienna holidays, including City Breaks, ideal for exploring its enchanting Old Town, as well as River Cruises and longer European getaways that allow us to take in multiple nearby cities like Prague and Budapest.
Vienna Holiday FAQs
What is included in my holiday?
Will I be met at the airport?
What is the deposit and when is full payment due?
What if there is an emergency?
Vienna Holiday - Reviews, Travel Tips & Advice
Check out the five reasons why you should go on a city break with the Travel Department.
Europe has undoubtedly the greatest choice of holiday destinations in the world and most can be reached within a couple of hours. ...